Fresh, local produce
through CSA membership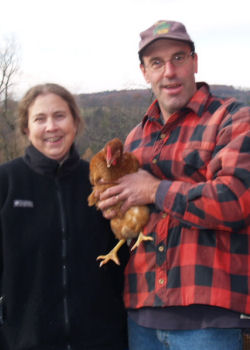 Dancing Hen Farm
570-925-0263
Don Hess & Joan Miller
55 Toy Factory Road
Stillwater, PA 17878
Columbia County
Organically raised vegetables,
herbs, pasture raised eggs
& other farm fresh foods
Now Accepting Fall CSA Memberships!
This is an eight-week extension at the conclusion of our summer CSA. Deliveries start during the week of October 10th. Keep a good thing going!
New and returning members, click to get started:

Purchase 2017 Shares
Winter Buying Club
Join our winter buying club now and keep the produce coming long after our CSA ends! Deliveries have already started.
We Offer Choice Shares
Our CSA members are able to choose the contents of their share boxes from a list of available items. Members log in online every week to make their selections.
Those who prefer to have Don and Joan pick part or all of their box contents may still do so, as all unspecified items are filled via "farmer's choice."
Savings for returning members and those who join early
2017 members receive a $30 discount on membership in the 2017 summer CSA. In addition, everyone who registers before the end of the year receives a $20 discount.
New! Two seasons in 2017
Our summer season starts on June 6, 2017, and lasts for 18 weeks. It is followed by an eight-week fall season which starts on October 10, 2017.
Special offer for churches & community organizations
In an effort to support our community and "share our harvest", we partner with local churches and civic groups. If 10 CSA members pick up at your facility, we'll donate one full vegetable share to your orgnization. In the past, groups have donated this share to a family in need or to a local food bank. In addition, we often have excess produce and we'll donate these items to you as well. To learn more, contact us at the farm.