Fresh, local produce
through CSA membership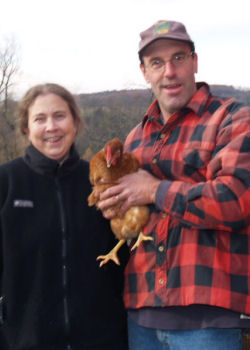 Dancing Hen Farm
570-925-0263
Don Hess & Joan Miller
55 Toy Factory Road
Stillwater, PA 17878
Columbia County
Organically raised vegetables,
herbs, pasture raised eggs
& other farm fresh foods
New for 2013: Choice Shares!
Starting with our 2013 growing season, choice CSA members will be able to choose the contents of their share boxes from a list of available items. Members will log in online every week to make their selections.
Those who prefer to have Don and Joan pick their box contents will still be able to join as traditional CSA members.
Returning members save
2012 members receive a $20 discount on membership in 2013.
Membership season is 22 weeks, June thru October.
Special offer for churches & community organizations
In an effort to support our community and "share our harvest", we partner with local churches and civic groups. If 10 CSA members pick up at your facility, we'll donate one full vegetable share to your orgnization. In the past, groups have donated this share to a family in need or to a local food bank. In addition, we often have excess produce and we'll donate these items to you as well. To learn more, contact us at the farm.