Farm photos
STARTER GREENHOUSE – Apr 13, 2011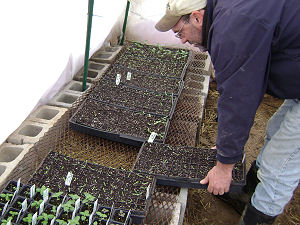 Don removes a tray of tomato seedlings to show the heat–generating compost inside our starter greenhouse. This starter house is tucked into a corner of the large greenhouse we erected last month.
Being doubly insulated, it's 60 degrees in here when it's 45 and drizzly outside. We'll transplant these tomatoes, plus cukes and warm–weather herbs such as basil, dill, rosemary and parlsey into the larger greenhouse a month from now.
GREENHOUSE – Mar 14, 2011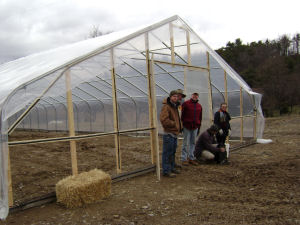 Our construction gang poses after covering our new 30' x 100' greenhouse.
It took six of us most of the morning to pull it tight and insert the long zig–zaggy clips that hold the plastic to the frame.
We'll soon be planting kale and other greens inside.
PEA PLANTING – Mar 19, 2010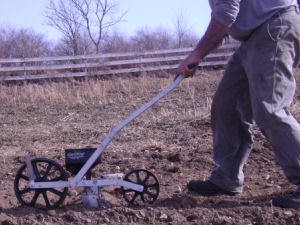 Today we planted our first seeds in the field – sugar, snap and shell peas – using our Earthway Garden Seeder.
These seeds should sprout in 10 days, if soil temps are right. In June, about 70 days from now, you'll find these fresh peas in your CSA box.
While onions have already sprouted in our green house, it'll be another month till we plant outside again, with lettuces and other greens.
MORNING HARVEST - Jul 15, 2008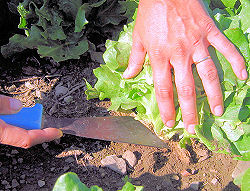 How do we decide what to harvest each day? In the morning we walk the rows to check maturity and do taste tests.
We harvest lettuces in the early morning before the heat of day. Immediately after picking we dunk the heads in cold water to prevent wilting.
After cutting the lettuce and salad mixes we harvest the more wilt-resistant chard, kale, mustard greens, and finally squashes.
PACKING LINE - Jun 17, 2008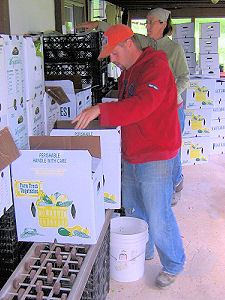 We pack your CSA shares in sturdy boxes the evening before, or the morning of, your delivery. Last week, we packed in the candlelight as we had no power due to the storm.
We pack peas and other loose items in plastic bags, rubberband the stalkier items such as herbs and Swiss chard, and carefully lay in heads of lettuce.
We strive to pack your box so its contents arrive in excellent condition. If you ever encounter an item that was not packed carefully enough, let us know.
We've bought some items for our first few deliveries from other growers, including Tuscarora Organic Co-op. These items replace crops that were damaged in last week's hailstorm. In a few weeks, we should be back to normal, if there is such a thing.
HAILSTORM - June 10, 2008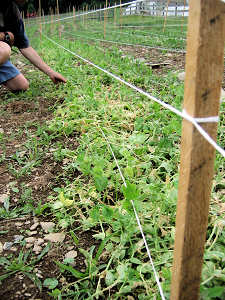 The gardens are recovering from the inch of hail that tore through the farm on Tuesday, June 10. Whatever wasn't under row covers - including lettuce, chard, onions, tomatoes, broccoli and peas (photo left) - was shredded. But we march forward, nursing the injured, replanting, and receiving support from other growers.
The marble-size hail was part of intense thunderstorm activity that peeled up metal barn roofs, splintered big trees, and cut power to lots of folks in this part of PA.
We try to prepare for losses like this by planting 100% more than what we'll need to supply our markets and CSA memberships. So despite Tuesday's storm, we anticipate being able to fill all your orders fully. If we encounter difficulty meeting delivery schedules or supplying the full number of share items, we'll let you know ASAP.
ROW COVERS - May 27, 2008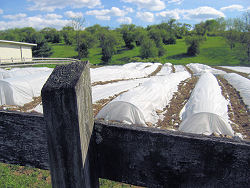 The white row covers at left keep flea beetles off tender plants, and help block the cold and wind. Just as importantly, they shield the plants from the foraging, dancing hens.