About Our CSA
CSA season
18 weeks, June through October.
Membership fee
See our share options and prices.
Benefits
Weekly shares of healthy, local produce grown without synthetic chemicals, pesticides or fertilizers
Eating vegetables within hours of their harvest
Knowing your farmer & how your food is grown
Access to additional farm–fresh, locally–grown or produced foods
Opportunities to visit and participate in the farm, including special events
What foods are available?
Our own organically grown vegetables and herbs, freshly picked, including many heirloom and specialty varieties. See our complete produce list.
Eggs from our pastured layers through an optional egg share. These are the delicious eggs with the rich, orange yolks and the non-runny whites.
Our pastured chicken share.
Other items we hope to offer soon: breads, fruits, cider, cheeses, grassfed beef, pork and other locally produced foods – beyond the regular CSA shares.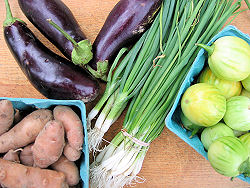 Which items will I receive?
Your items will be based on availability and quality. We'll do our best to provide variety in every share. We'll let you know at each delivery items you can anticipate receiving the next week. For quantities and harvest times for the items you'll receive, see our produce list.
We are offering a choice CSA membership, where you'll choose the contents of your share box from a list of available items. If you prefer, you may skip placing your order and we, the farmers, will determine which items you receive.
Delivery locations
Bloomsburg
Dallas
Forty Fort
Mountain Top
Plus home deliveries in Luzerne & Columbia counties
Become a delivery coordinator or market helper
We're always looking for people to help as delivery site coordinators or at one of our farmers' markets. Contact us if you're interested in helping out in any of these ways.
Special events at the farm
During the year we'll also offer potluck meals at the farm. We'll notify you of these events as they come up.
What is CSA – Community supported agriculture
Customer buys directly from the farmer through membership
Members receive weekly share of all produce grown on the farm
All members share equally in the harvest
You accept that share size can vary or crops can fail due to weather or other factors
Some CSAs offer shares in exchange for labor, rather than money
At our farm
We overplant by 100% to prepare for losses. Should we ever suffer a crop loss, we'll attempt to replace it with fresh organicaly-grown produce from nearby growers. Should we ever have trouble meeting the delivery schedule or supplying the full number of share items, we'll let you know ASAP.
We're always happy to have you visit and help on the farm. This could be one visit or a more regular, scheduled commitment. If you're interested in helping out, or exchanging farm labor for a reduction in your share fee, give us a call.
To learn more about community supported agriculture see these links.